A 360° vision for
community-connected employment.
Through localized mentorship, direct investment and specialized services, HIRE360 will strengthen the participation of underrepresented populations in the Chicago area — with a special focus on engaging youth to consider the trades as a viable and inspiring career path, mentoring and growing Minority Business Enterprise (MBE) and Women Business Enterprise (WBE) firms and creating a supply chain of partners that are accountable to higher participation standards.
HIRE
HIRE360 will expand employment and advancement opportunities and ongoing support for community residents in the hospitality, manufacturing and construction industries through recruitment, training and placement assistance. By upgrading the skills of the currently employed, HIRE360 will provide entrée to the trades for youth and gainful employment for underrepresented populations. It is the first step in an important chain of events that ultimately strengthens communities.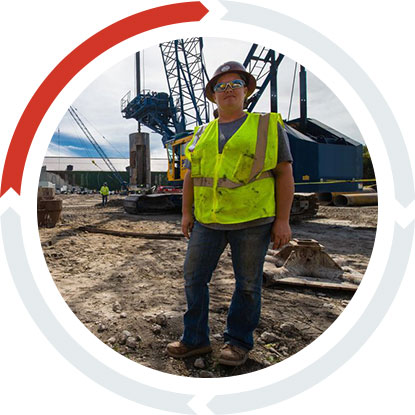 INVEST
HIRE360 is built around a vision of ongoing investment in the community and increasing opportunity for the entire city by investing capital to help MBE/WBEs start, grow and thrive. In addition to the financial investment, HIRE360 will make the precious investments of time and mentorship to develop resources, services, processes and programs for expanding recruitment, employment and advancement opportunities.
REACH
HIRE360 will reach and connect area youth, underrepresented populations and local residents with job inspiration and opportunities. We will help local minorities, women, the LGBTQX community, veterans and people with disabilities reach new heights with sustainable, long-term careers and opportunities throughout the Chicago area.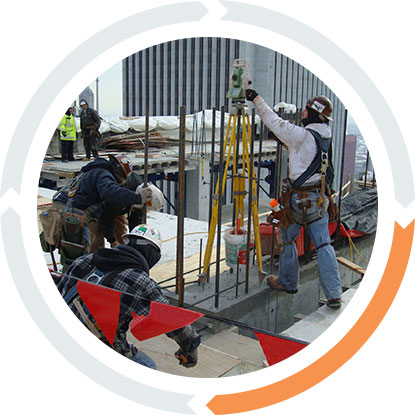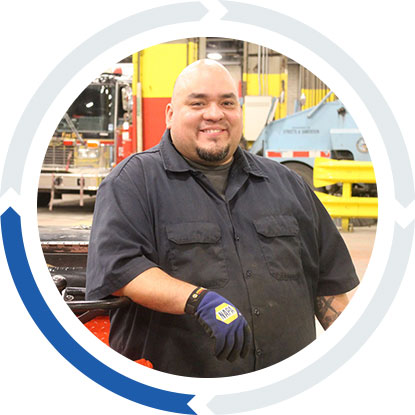 EMPOWER
HIRE360 will model socially responsible hiring and supply chain accountability as a way to transform communities that are rich in talent but lacking in resources or opportunity and provide for an economic engine that maximizes Chicago's potential. We will also provide a roadmap for businesses, cities and communities beyond Chicago looking for a better way to uplift and empower their citizens to live better lives.
OPPORTUNITIES
BUILDING CHICAGO
Union construction workers start as apprentices who are paid roughly $20 per hour which increases over 2 to 5 years to roughly $40 per hour. HIRE360 and its partners – Chicago Building and Construction Trades Coalition and the largest Developers and General Contractors – offers case management and support each step of the way to guide you into an exciting construction career that pays a living wage.
BENEFITS OF HIRE360
HIRE360 provides case management and support to help you secure opportunities in the trades. A case manager helps navigate current apprenticeship opportunities, understand the application process, prepare for any assessments and can connect you with mentors and leaders in the trades that can help you get your career started the right way. Through the Barrier Reduction Fund, supported by the Chicagoland Workforce Funders Alliance, HIRE360 candidates don't need to worry about buying tools, boots, or other expenses – so you can focus on starting your new career.
BENEFITS OF BECOMING AN APPRENTICE
ARE YOU?
IF SO, APPLY TODAY:
BUSINESS DEVELOPMENT
HIRE360 Business Development Program has a unique partnership of construction unions, general contractors, and developers. This unique partnership allows Contractors access to development/capacity building, technical assistance/back office support, financial literacy, project management and business branding/marketing. The objective is to create and grow viable self-sustaining businesses that will be able to compete and be successful on some of the impending Mega Projects that total $100 billion over the next 10-15 years. Our business development program is created to grow businesses that create wealth in the community and career opportunities as well.
BOARD OF DIRECTORS
Hire360 is steered and mentored by accomplished individuals from a select collection of organizations with decades of experience in property development, construction and labor support in Chicago. With access to deep resources, thoughtful services, and vetted processes and programs, the team is uniquely prepared to elevate communities through recruitment, employment and advancement opportunities.